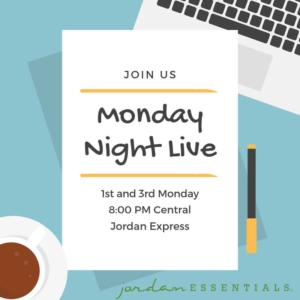 Weekly Call Schedule
Get inspired, set goals and dream big!
1st and 3rd Monday of the Month @ 8 pm central – Join us for Monday Night Live in Jordan Express! Replays stay posted in the group and can be found by going to Jordan Express and clicking on UNITS.
2nd, 4th and 5th Mondays of the Month – Team Lives, Zooms and Calls (ask your upline Director for time and date)
Calls and FB Live Event dates are subject to change.  
Jordanvention 2019 – Elevate
July 19, 20, & 21, 2019
Oasis Convention Center in Springfield, MO
2019 Annual Convention
Empower yourself with the event every leader calls "vital to your successful business."
You will be pampered, entertained, educated, and empowered in the action packed weekend that only comes once per year.